CASE STUDY
Vault Pipeline Rehabilitation with Denso Petrolatum System
Exposed Surface Coatings
>
Cheyenne Stage 1 – Vault Pipeline Rehab
Project Data
| | |
| --- | --- |
| Location | Cheyenne, WY |
| Completion | 1994 |
| Project Type | Vault Pipeline Rehabilitation |
| Products Used | Denso Paste / Denso Profiling/ Mastic / Densyl Tape |
| Contractor or Applied By | N/A |
Project Details
One of the nation's largest engineering firms, CH2 M Hill, was hired by the City of Cheyenne, WY to write specifications for rehabilitating a forty mile stretch of 26″ diameter steel water pipeline. The pipeline was built in the 1960s to supply water to Cheyenne from pristine highland lakes in the Rocky Mountains. This ingenious system is completely gravity fed and incorporates a series of air release and blow off valves.
Complications arose in specifying the coating of the valves and fittings which were situated in concrete vaults. The vaults are located on hill tops and valleys in remote Southern Wyoming and many of the valves were partially submerged or underwater.
Therefore, a coating system tolerant to wet conditions and minimal surface preparation was needed. Denso North America Inc. was contacted to give a coating demonstration using our system, consisting of Denso Paste, Denso Profiling Mastic and Densyl Tape. The engineers were impressed by the minimal surface preparation (hand tool cleaning) and the ability of the product to conform to the irregular surfaces, especially on partially submerged valves. The engineers and owners were satisfied that money could be saved in time and equipment using this system.
CH2 M Hill specified the system and awarded the project to High Plains Construction of Wyoming. The contractor has successfully applied the Denso Petrolatum Tape System to over 100 valves and fittings.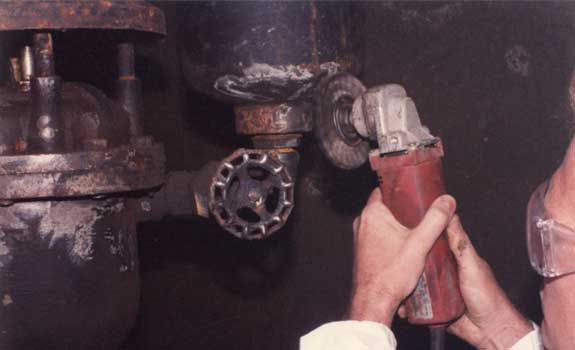 Valves and fittings are cleaned by hand tool cleaning.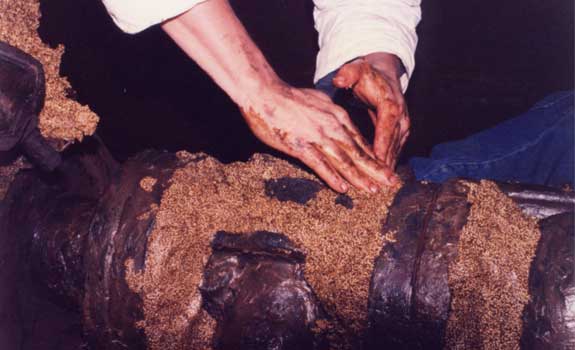 Denso Profiling Mastic is applied to provide a smooth profile.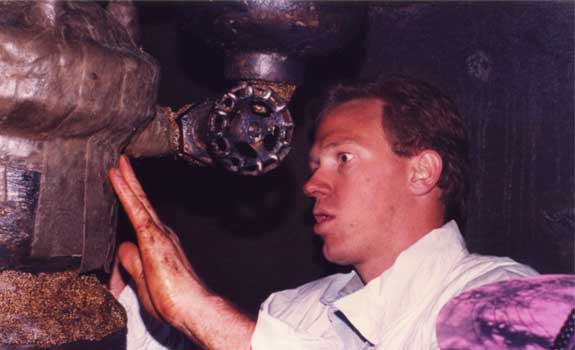 Over 100 valves and fittings were protected with the Denso Petrolatum Tape System.