CASE STUDY
Horizontal Concrete Joints Sealed to Prevent Wastewater Infiltration
Exposed Surface Coatings
>
Durham Region – Water Infiltration Prevention – Wastewater
Project Data
| | |
| --- | --- |
| Location | Pickering, Region of Durham, Ontario |
| Completion | 2018 |
| Project Type | Horizontal Concrete Joint Sealing |
| Products Used | Denso LT Tape 12" |
| Contractor or Applied By | Clearway Construction |
Project Details
When the Region of Durham planned to develop a 1 meter diameter wastewater concrete piping installation they were concerned with infiltration. This was due to the fact that the piping crosses land that borders an old landfill site which sparked concerns of infiltration of contaminated water that would ultimately end up in treatment. With concrete bell and spigot piping there exists the concern of infiltration of water and organic plant material over decades and to guard against this, the joints were wrapped with Denso LT Petrolatum Tape. The tape was laid down with two lengths at a 50% overlap prior to the placement of each concrete section. Once the concrete was seated, the tape was pressed against the concrete with workers ensuring that all air was pushed out and seams were closed. They used a long wrench to reach the lower sections of the pipe to press the tape against the lip of the concrete. With a tight seal, Denso LT Tape will stay flexible – even if the concrete were to crack – and remain as a water-tight barrier against infiltration. With more and more municipalities weighing the life-cycle costs of infrastructure and with the rising costs of new and rehabilitative construction, it makes financial sense to employ methods and materials such as Denso Petrolatum Tapes to ensure long term performance and integrity of this important infrastructure. For more information, contact Denso North America.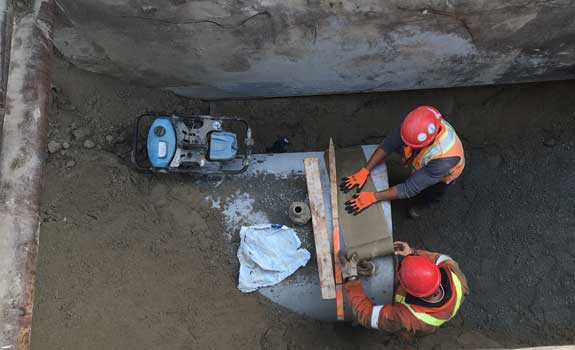 A section of the 1 meter diameter wastewater concrete piping installation being prepped for water infiltration protection with Denso LT Tape.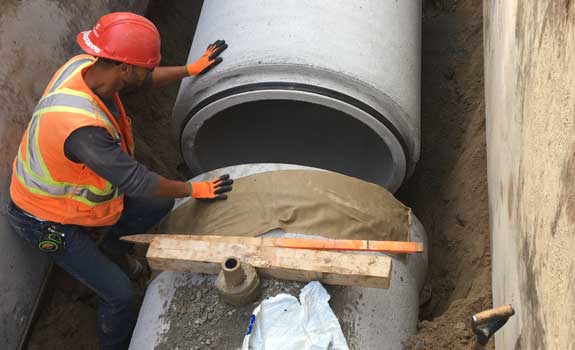 Denso LT Tape will remain flexible and continue to seal, even if the concrete cracks.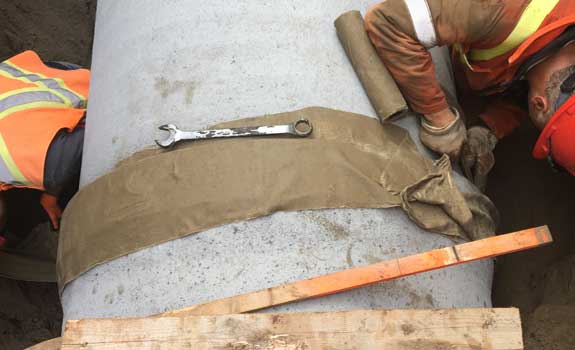 Workers sealing the Denso LT Tape by hand, ensuring that all air is pushed out and seams are closed, providing a water tight seal.