CASE STUDY
Automatic Spray Ring Applies Protal 7200 for Girth Weld Corrosion Protection
Buried Pipeline
>
Enterprise Products – Girth Weld Protection
Project Data
| | |
| --- | --- |
| Location | Central Louisiana |
| Completion | 2011 |
| Project Type | Girth Weld Protection |
| Products Used | Protal™ 7200 |
| Contractor or Applied By | Michels Pipeline Construction / PIH |
Project Details
On a recent 36″ pipeline construction project in Louisiana, Michels Pipeline Construction utilized the services of Pipeline Induction Heat (PIH) to apply Denso's Protal 7200 to the mainline girth welds. This was the first project in the USA where an automated plural spray ring was utilized to apply the weld joint coating. In the past, the weld joints were always coated by brush or roller. The advantages over brush application were considered to be speed of application and a more uniform dry fi lm thickness (DFT). Both expectations were achieved as PIH was able to coat an average of 160 weld joints/day with DFT's between 24 and 32 mils.
First, the 36″ weld joint was blasted to a near-white finish, SSPC-SP 10/NACE No. 2, while achieving a 4.0 mil anchor profile. Then, the surface area was preheated with an induction coil to 180F. Finally, PIH's automatic spray ring was able to coat the weld joint in about 35 seconds with 5 rotations (approx. 6 mils per pass) of the spray tip. All 3 steps of surface preparation, pre-heating and coating took approx. 4 minutes. In an 8 hour work day, they were able to coat up to 200 joints. Protal 7200 is a two-part, 100% solids epoxy coating that can be applied in one coat up to 50 mils. The product exhibits outstanding adhesion to steel and FBE, as well excellent resistance to cathodic disbondment. It has high impact and abrasion resistance for directional drill applications. Furthermore, the extremely fast cure makes it ideal for tie-ins, bore joints and holiday repairs.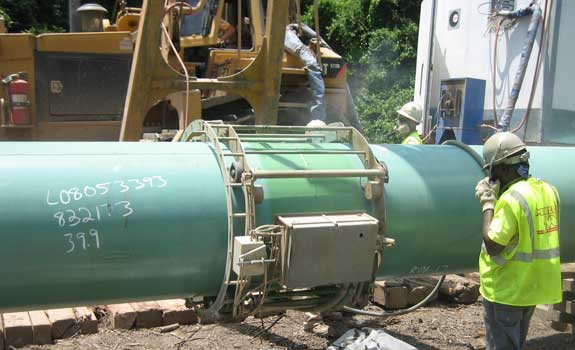 Spray applying Protal™ 7200 to 36" girth weld in 35 seconds.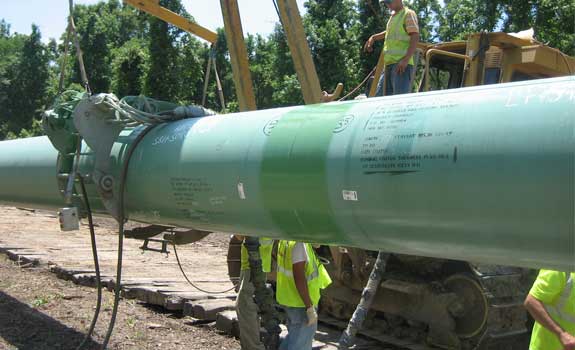 Automatic Spray Ring moving to the next joint.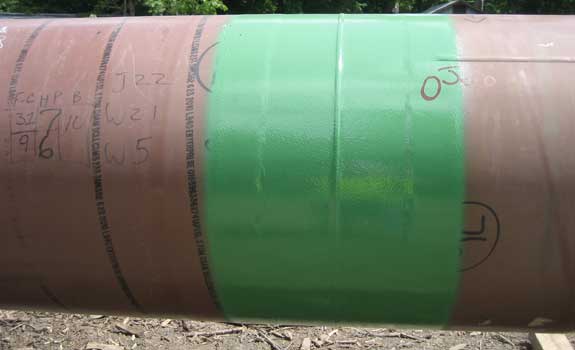 Protal™ 7200 applied at 24 to 32 mils DFT.