CASE STUDY
Corrosion Prevention to Largest Diameter Pipes and Fittings in the Hanlan Project
Exposed Surface Coatings
>
Hanlan Water Project – Water Pipeline Protection
Project Data
| | |
| --- | --- |
| Location | Mississauga, Canada |
| Completion | 2017 |
| Project Type | Water Pipelines and Fittings |
| Products Used | Denso LT Tape / Denso Profiling Mastic / Mastic Blankets / Denso Paste |
| Contractor or Applied By | McNally Construction |
Project Details
The Greater Toronto Area is the most populous metropolitan area in Canada and is also one of the fastest growing. With high population and continual growth, access to resources and infrastructure is a necessity. In planning for that need, Peel Region, one of the four regional municipalities that comprise the area in addition to Toronto, has undertaken the Hanlan Water Project.
The project includes the installation of a 2400-mm (2.4 meters or 8 foot) diameter Hanlan Feedermain and a 1500-mm (1.5 meters or 5 foot) Mississauga City Centre Sub-transmission Water main. The feeder main will run approximately 14.5 kilometers from the Lakeview Water Treatment Plant on Lake Ontario to the Hanlan Reservoir and Pumping Station with the sub transmission main running approximately six kilometers from the Hanlan Reservoir and Pumping Station. Some of the steel appurtenances are buried while others are stationed in huge chambers and despite the steel having paint or epoxy coatings, corrosion is a serious concern that threatens the longevity of the system.
The Denso Petrolatum Tape System was used to provided long-term corrosion protection to some of the largest diameter pipes and fittings in the Hanlan project. Minimal surface preparation (SSPC-SP-2 or SP-3) was required prior to applying the Denso Paste before a 55% overlap of Denso LT tape was spirally wrapped over the substrates. The Denso Profiling Mastic was also used, prior to tape application, where it was needed to help provide a smooth profile.
Engineers, municipal designers and contractors are extremely impressed with the Denso Petrolatum System and in the ease of application and support and training Denso North America provides. For more information or demonstration contact Denso North America.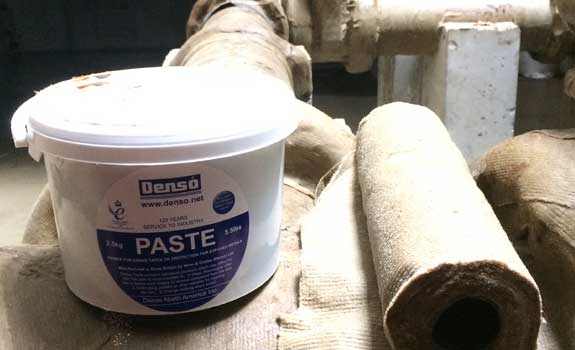 Denso Paste and a roll of Denso LT Tape are used to provide corrosion protection to surface substrate.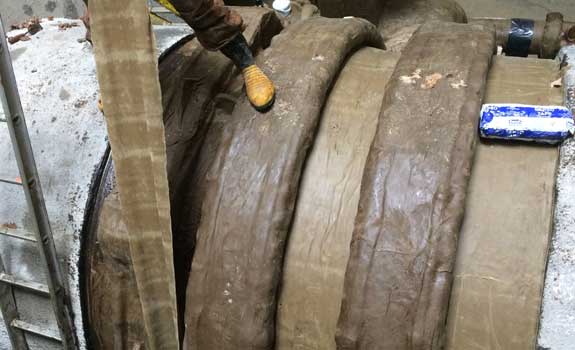 Denso LT Tape is easily spiral wrapped by hand over large diameter fittings.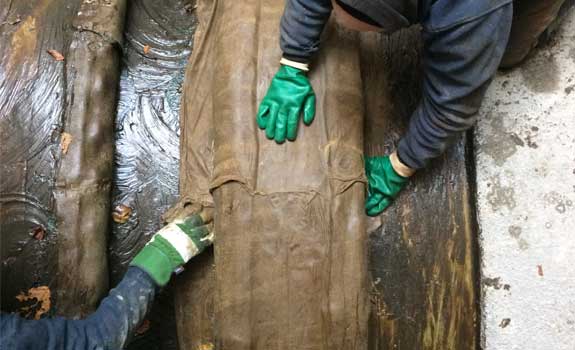 The Denso Petrolatum Tape System will adhere to metal, concrete, PVC and polyethylene substrates.