CASE STUDY
Protal 7200 Protects Girth Welds from Corrosion
Buried Pipeline
>
Mid-Continent Express Pipeline – Girth Weld Protection
Project Data
| | |
| --- | --- |
| Location | Northern Louisana |
| Completion | 2010 |
| Project Type | Girth Weld Protection |
| Products Used | Protal™ 7200 |
| Contractor or Applied By | Sheehan Pipeline |
Project Details
The Kinder Morgan Mid-Continent Express Pipeline is a recently completed 42" and 36" 500- mile pipeline in which the girth welds, HDD weld joints and tie-in joints were protected with Protal 7200.
Protal 7200 was selected as the coating of choice for this project due mainly to its versatility to be used in various applications. The product has outstanding physical properties and fast cure ability, which allowed the contractors to use the same coating for the protection of all weld joints including girth welds, tie-ins and bore joints. Protal 7200 is a two-part, 100% solids epoxy coating that can be applied in one coat up to 50 mils. The coating exhibits excellent cathodic disbondment results of 4 mm @ 150ºF (65ºC). Another benefit is high impact and abrasion resistance for directional drill applications. Furthermore, the extremely fast cure makes it ideal for tie-ins and holiday repairs. Test results with independent labs and oil & gas companies have proved to be superior to other liquid coatings.
Unlike FBE, which requires expensive and heavy equipment, Protal 7200 only requires a brush or roller to apply. The costly risk of downtime due to equipment failure is eliminated. Due to these cost savings, Protal 7200 is ideal for a variety of field or shop applications including girth welds, tie-ins, HDD applications, station piping, fittings and repairs to FBE.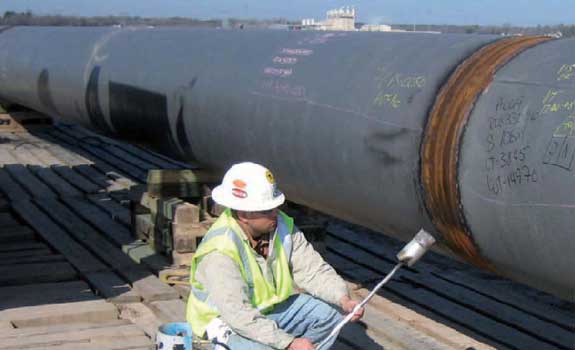 Pre heating of weld joints prior to blasting.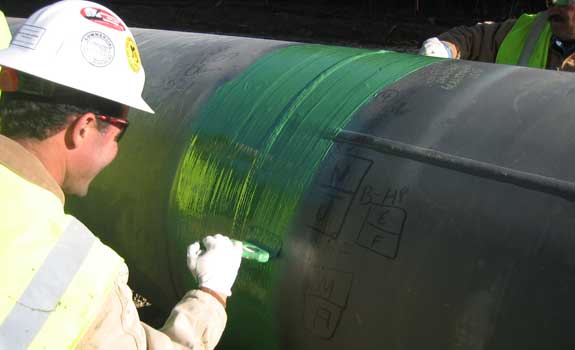 Brush applied coating protection of girth welds.