CASE STUDY
Oil Storage Tank Use Archco Linings for Corrosion Prevention
Industrial Coatings & Linings
>
Oil Storage tank – Tank Lining Protection
Project Data
| | |
| --- | --- |
| Location | USA |
| Completion | 2017 |
| Project Type | Corrosion Prevention Lining for Oil Storage Tank |
| Products Used | Archco 400™ / Archco 476P™ |
| Contractor or Applied By | N/A |
Project Details
A large US oil pipeline, storage and transportation company had been experiencing numerous coating failures with their existing internal tank linings and was looking for a solution. The decision was made to switch to the Denso Archco 400 as a primer and Archco 476P as a topcoat, due to excellent chemical and high temperature resistance that these linings provide. Other key factors that played into the decision to switch to Denso were the company's success with several other Denso buried pipeline coatings and the valuable technical service provided by Denso.
The internal tank floor and two feet up the sidewall were blasted to a near white finish (SSPC SP-10). The Archco 400 primer which is a two part epoxy with superior wet-out properties suitable for sealing heavily pitted floors, was easily sprayed with a single leg (68:1) airless spray unit. The following day the Archco 476P was applied using a plural component airless spray unit. This allowed for the tank to be returned to service very quickly (8 hours at 75°F / 23˚C). The Archco 476P is a 100% solids, two-part, high-temperature resistant, epoxy phenolic-novolac system designed for internal tank linings. The owners can expect a service life of 20+ years with the Denso Archco Tank & Pipe Lining Systems.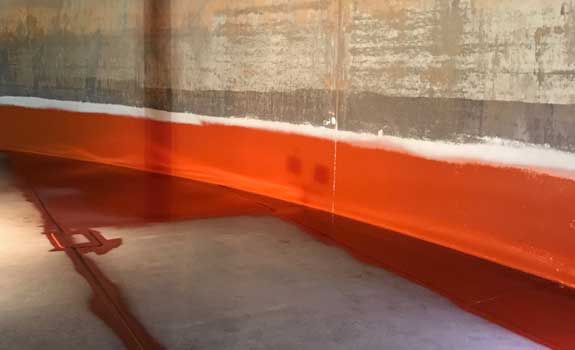 Archco 400 primer being applied to the blasted floor and side walls of the tank.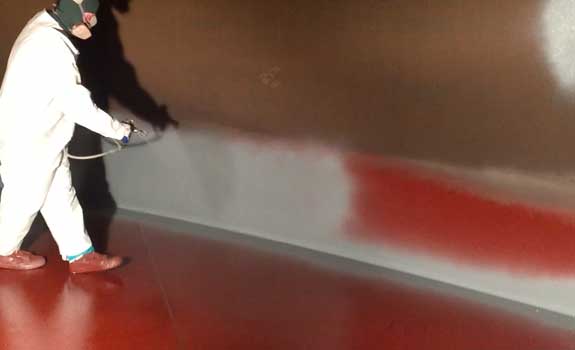 Archco 476P sprayed applied over the primer to provide chemical and high temperature resistances.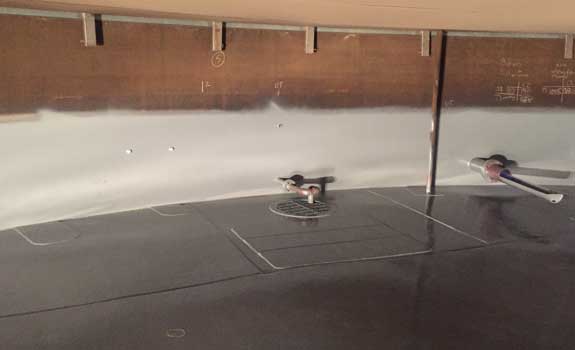 Fully cured Archco 476P lining allowing the tank to return to service within 8 hours.