CASE STUDY
Pipeline Rehabilitation with Denso Protal 7200
Buried Pipeline
>
Williams Pipeline – Pipeline Rehabilitation
Project Data
| | |
| --- | --- |
| Location | Sour Lake, Texas |
| Completion | 2007 |
| Project Type | Pipeline Rehabilitation |
| Products Used | Protal™ 7200 |
| Contractor or Applied By | Pilgram Construction |
Project Details
Many oil & gas companies are creating pipeline integrity programs to inspect, monitor and repair their pipeline systems. If during inspection the coating is found to be disbonded or in need of repair, the pipeline will be excavated and recoated. Denso's Protal 7200 is the product of choice to recoat pipelines by hand or spray.
Williams Pipeline selected the Protal 7200 to recoat over 1 mile of 30" diameter pipe. The project consisted of excavating and exposing the 30" diameter pipe. Prior to coating, the pipe was abrasive blasting to a near white metal finish, SSPC SP-10 or NACE No. 2 standard. After the surface was prepared, Protal 7200 in (2 liter kits) was applied typically to a 50 foot pipe section in which the coating was applied in 25 minutes with low nap rollers. The coating was applied by Pilgrim Construction at an average thickness of 30-35 mils in one coat at 110˚F (43ºC). The tack-free time was approximately 15-20 minutes and the pipe was ready for holiday detection and backfill within 1 hour.
Protal 7200 is a VOC free, 100% solids epoxy that exhibits excellent cathodic disbondment results with 4 mm at 150ºF (65ºC). In addition, the coating offers high impact resistance, fast curing, high abrasion resistance, high build (up to 50 mils in one coat) and environmentally safe. Denso manufactures a full line of Protal liquid coatings to meet the demand of the pipeline industry. Protal liquid coatings are the coatings of choice by owners, oil and gas specifiers and contractors across North America.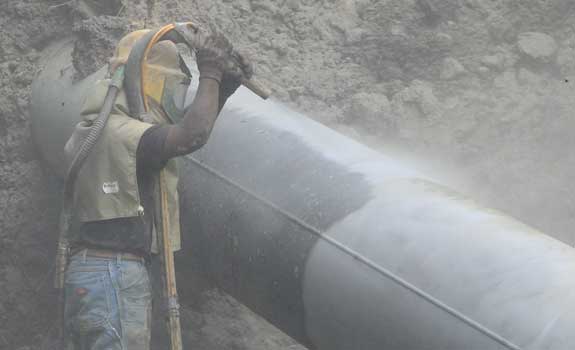 Abrasive blasting to a near white metal finish before applying the Protal™ 7200.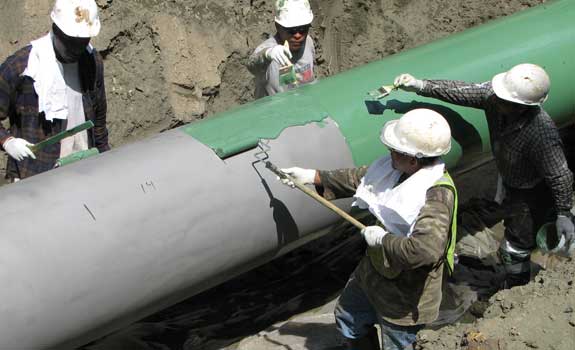 Once mixed and ready for use, the Protal™ 7200 is easily applied to 50' sections of pipe.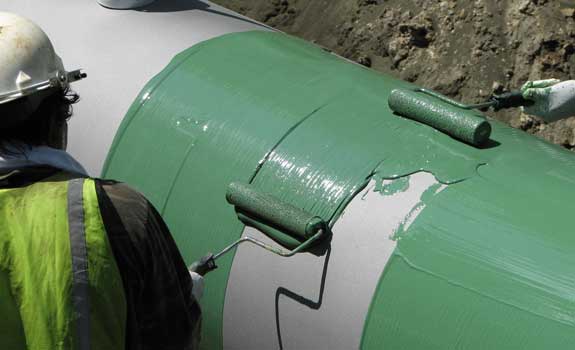 Applied with low nap rollers, to an average thickness of 30-35 mils.