CASE STUDY
Black Sturgeon River Bridge – Pile Rehabilitation
Bridge Steel Pile Rehab
>
Black Sturgeon River Bridge – Bridge Pile Rehabilitation
Project Data
| | |
| --- | --- |
| Location | Kenora, Ontario, Canada |
| Completion | 2020 |
| Project Type | Structural Repairs and Pile Protection |
| Products Used | SeaShield Series 2000HD™ System / LT Tape/ Glass Outerwrap |
| Contractor or Applied By | Dominion Divers |
Project Details
   The Black Sturgeon River is located approximately 19km North of Kenora, Ontario on Highway 658. The concrete bridge spanning the Black Sturgeon River is owned and maintained by the Ontario Ministry of Transportation (MTO) and is supported by 5 bents, with each bent consisting of 4 – 600mm (24″) diameter spirally welded steel piles. The steel piles are connected by structural cross-bracing that are permanently submerged underwater. The bridge, originally constructed in the 1960's was in need of some repairs.  The MTO retained Hatch and TBT Engineering Ltd. to complete the design and contract administration of the repairs respectively, and Landform Civil as the general contractor who partnered with Dominion Divers to undertake the in-water works.
   The original corrosion protection coating on the piles had degraded over time and the piles were experiencing minor corrosion. The engineer elected to mitigate the corrosion for years to come by selecting Denso's SeaShield 2000HD pile protection system as well as petrolatum tape and glass outerwrap at the submerged cross-connections. The SeaShield Series 2000HD™ system consists of Denso S105 paste, marine piling tape and a 2.0mm (80mils) thick HDPE outerjacket for a cost effective, long-term corrosion protection system of steel piles.
   Denso worked with Dominion Divers during the shop drawing and pre-procurement stage to ensure approval by the engineer, and so that appropriate HDPE outerjacket lengths were ordered to minimize cutting in the field. Denso provided virtual training to Dominion Divers so that they had a basic understanding of how to apply the system prior to arrival at site. Denso then met Dominion Divers on site to provide technical support and guidance during the initial installation stages. Since the bottom 2/3 of the piles were submerged, most of the work was completed under water, and Denso was able to provide guidance and feedback based on live video feed.
   Dominion Divers completed the installation of the Seashield 2000HD pile protection system on all 25 piles and cross-connections on schedule and as required by Denso. The Contractor and Engineer were impressed with its ease of application and the finished result, as well as the support provided by Denso North America.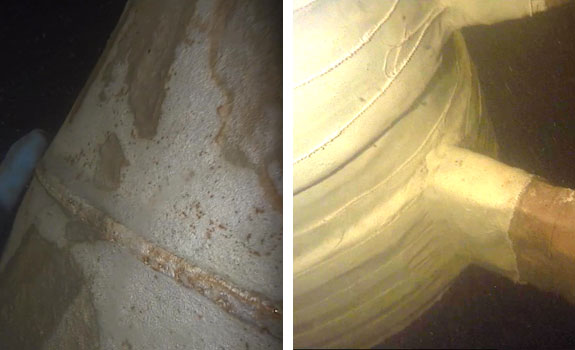 Cleaned steel pile below the waterline. Note the visible spiral weld. Installation of the LT tape and Glass Outerwrap at the structural cross-connection area.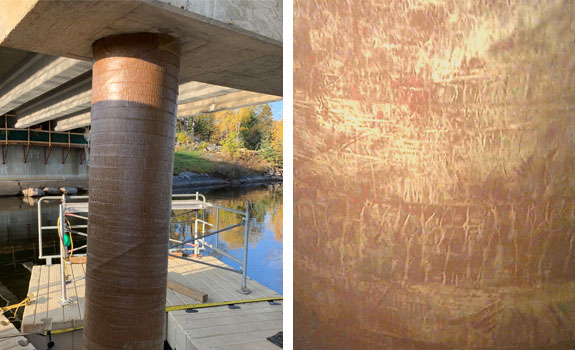 Installation of the Marine Piling Tape above and below water. Note the visibility of the spiral weld indicating a nice tight application of the tape.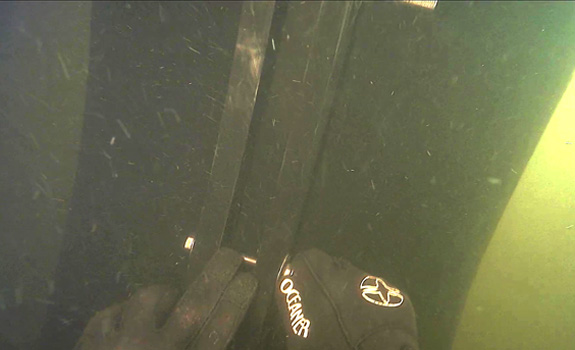 Installation of the HDPE outerjacket below water.