CASE STUDY
Wind Turbines Foundation Bolts Sealed from Corrosion with Denso Petrolatum Tapes
Exposed Surface Coatings
>
California Wind Farm – Foundation Bolt Protection
Project Data
| | |
| --- | --- |
| Location | California |
| Completion | 2020 |
| Project Type | Wind Farm Foundation Bolt Protection |
| Products Used | Denso ColorTape™ |
| Contractor or Applied By | Local Contractor |
Project Details
Wind energy is quickly becoming a major producer of the world's energy. Wind turbine towers can be upwards of 280 feet tall. These massive structures are anchored to their foundation by bolts set in concrete. Corrosion of these bolts is one of the major causes of wind turbine collapses. Protecting these anchor bolts from corrosion is critical to the long-term service life of a wind turbine.
A recent wind farm project in California chose Denso ColorTape to protect the anchor bolts on 13 new towers. Each tower had 76 exterior anchor bolts that were exposed to the environment. After a quick trial application, it was apparent the Denso ColorTape was an excellent product for protecting these bolts for several reasons. To start, it requires very minimal surface preparation. A quick hand tool cleaning with a wire brush in accordance with SSPC SP-2 is all that is needed. Denso ColorTape can also be easily applied in one step and is extremely conformable to virtually any size or shape, making it ideal to wrap the nuts and bolts. From time to time, these bolts will have to be re-tensioned meaning whatever type of protection is used on the bolts will have to be removed. The Denso ColorTape is easily removed and can then be reapplied after the re-tensioning process is complete. All of these features make the Denso ColorTape the perfect product to prevent corrosion of anchor bolts.
The contractor and owner were extremely pleased with the simplicity and effectiveness of this application.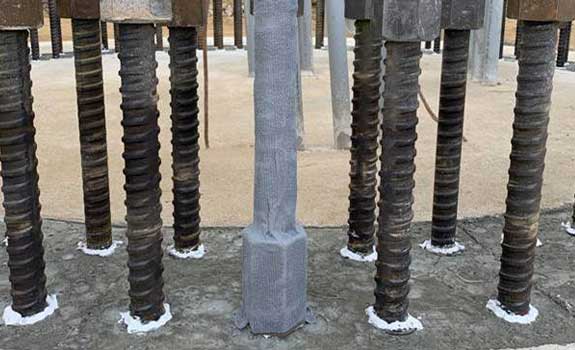 Trial application of the Denso ColorTape which showed how easily the tape conforms over irregular shapes.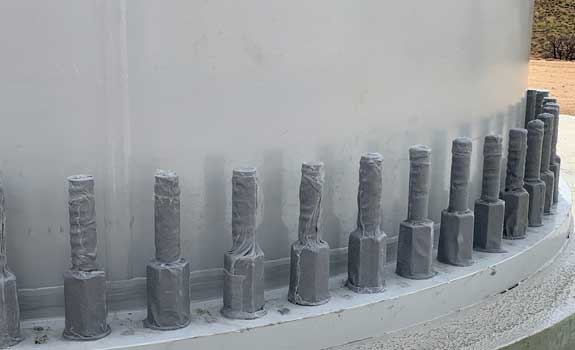 Over 900 windmill anchor bolts were protected from environmental corrosion with Denso ColorTape.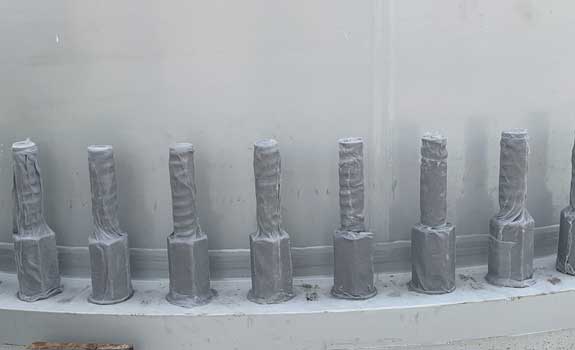 Recently installed Denso ColorTape on 76 exterior anchor bolts for tower.