CASE STUDY
Columbia Gulf's Pipeline Rehab with Denso's Protal 7200 Pipeline Coating
Buried Pipeline
>
Columbia Gulf – Pipeline Rehabilitation
Project Data
| | |
| --- | --- |
| Location | N/A |
| Completion | 2006 |
| Project Type | Pipeline Rehabilitation |
| Products Used | Protal™ 7200 |
| Contractor or Applied By | N/A |
Project Details
Pipeline Integrity is rapidly becoming a major factor for pipeline companies in North America. Pipeline companies, by law, must operate safe pipelines and provide documentation to prove that all external corrosion defects are controlled from adversely impacting structural integrity. The cost impact due to a failure is not an option.
With thousands of miles of buried pipelines constructed and coated well over 50 years ago, in many instances, the old coating has gone well past its useful service life. Denso's Protal 7200 is fast becoming the product of choice for recoating these pipelines in the field.
Recently, Columbia Gulf Transmission selected the Protal 7200 to recoat approximately 1.5 miles of 30″ and 36″ diameter pipe. The project consisted of excavating and exposing the pipe in the ditch and removing the original coal tar epoxy coating. Prior to recoating, the pipe was sandblasted to a near white metal finish, SSPC SP-10 or NACE No. 2 standard.
After the surface was prepared, the Protal 7200 was applied using plural component spray equipment. The coating was applied by the Mears Group at an average thickness of 27-34 mils in one coat. The tack-free time was approximately 30 minutes and the pipe was ready for backfill within 2 hours.
Protal 7200 is a VOC free, 100% solids epoxy that exhibits excellent cathodic disbondment results (6 mm at 185°F (85°C). In addition, the coating offers high impact resistance, fast cure, high abrasion resistance, high build (up to 50 mils in one coat), and is environmentally safe. Denso manufactures a full line of Protal liquid coatings to meet the demand of the pipeline industry. Protal liquid coatings are the coatings of choice by owners, oil and gas specifiers and contractors across North America.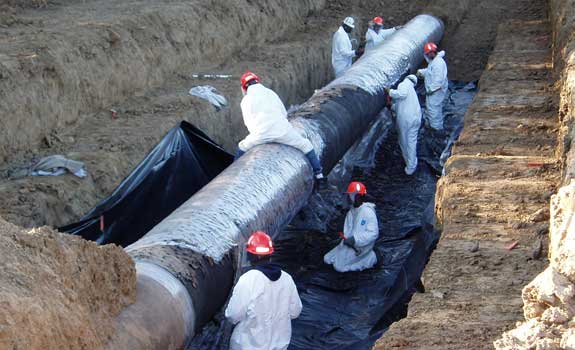 Removal of old coal tar enamel coating.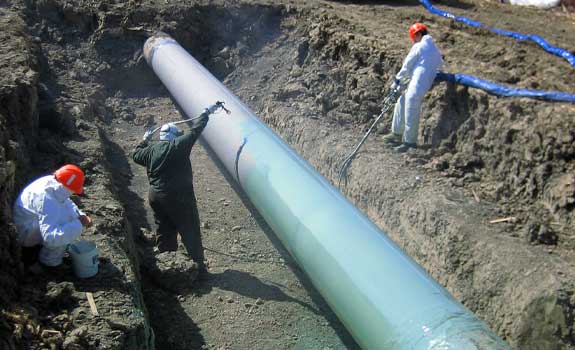 Pipe being spray applied with Protal™ 7200.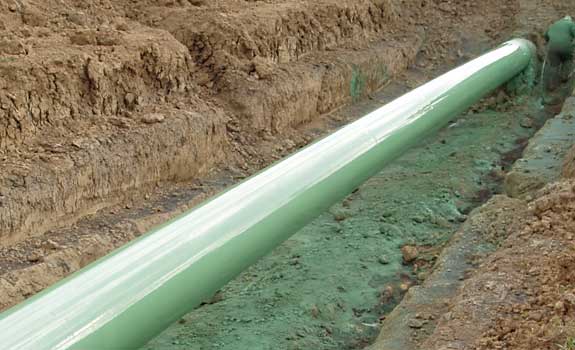 Section of pipe with newly coated Protal™ 7200.