CASE STUDY
Denso™ System Protecting Windsor's Waterworks Infrastructure
Exposed Surface Coatings
>
Denso™ System Protecting Windsor's Waterworks Infrastructure
Project Data
| | |
| --- | --- |
| Location | Ontario, Canada |
| Completion | 2017 |
| Products Used | Denso Paste™ / Denso Profiling Mastic™ / Denso LT™ Tape |
| Contractors or Applied By | CoCo Construction Group |
| Project Type | Waterworks - Valve Assembles |
Project Details
The City of Windsor, Ontario, located along the Canada/US Border, has long seen the benefits of using Denso products to prevent corrosion from occurring on their water distribution system.
A new water main installation was undertaken that was comprised of several large sections of 36" dia. PVC water main piping. These sections were complete with multiple valve assemblies, metallic restrainers and a variety of metal fittings that were all protected with the Denso™ Petrolatum Tape System. The system included Denso Paste™, Denso Profiling Mastic™ and Denso LT™ Tape.
CoCo Construction Group were the contractors on this project and did much of the assembly and construction of these sections topside before slinging the large, wrapped assemblies down into the ground. Once the remaining connections were joined together below grade, they were finished being Denso wrapped and then backfilled.
The process of assembling the sections and then protecting them before going in the ground was much easier from the contractor's perspective as it helped minimise much of the in-trench work and permitted a better overall application of the Denso system.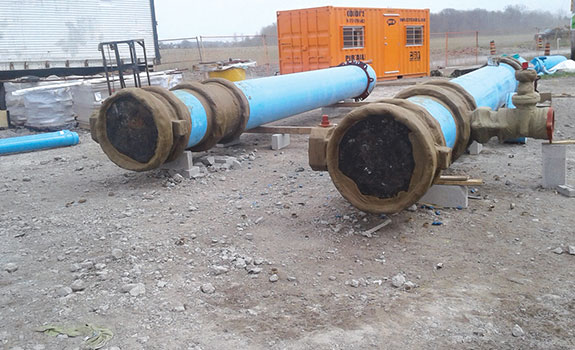 Some of the Denso™ Petrolatum Tape System installation was applied prior to placing in-situ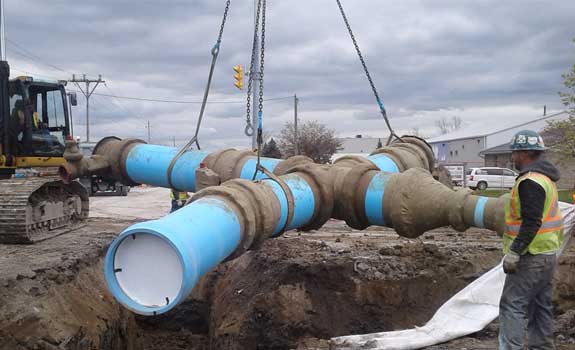 Fully corrosion protected valves using Denso Petrolatum tape being lowered for buried installation.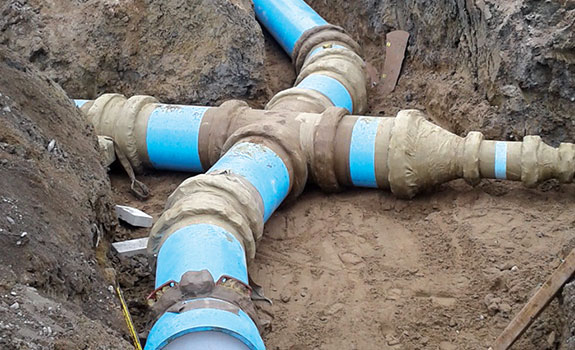 The Denso™ Petrolatum Tape System was used to protect all of the metal valve assembles and fittings on the new Windsor water main