CASE STUDY
Downtown Waterfront Protects 79 Piles With SeaShield Series 2000HD™ System
Subsea & Splash Zone Coatings
>
Downtown Juneau Waterfront – Steel Pile Protection
Project Data
| | |
| --- | --- |
| Location | Juneau, AK |
| Completion | 2016 |
| Project Type | Steel H-Pile Protection |
| Products Used | SeaShield™ Series 2000HD System |
| Contractor or Applied By | N/A |
Project Details
The City of Juneau has undergone recent improvements to their downtown waterfront. This included improvements to it's Cruise Ship Terminal and associated dock area where many restaurants and shops cater to the many tourists that visit the area. As a part of the improvements, Denso's SeaShield Series 2000HD System was selected to be used to protect 79 steel H-Piles that were exhibiting corrosion in the splash zone.
After the piles received proper surface preparation, the Dive Contractor applied Denso S105 paste, Foam Blocks wrapped with Densyl™ Tape, a final Densyl Tape wrap with a 55% overlap and the Series 2000HD Outercover (80 mil HDPE) to the pile's splash-zone area. In addition to these piles, there were several piles that had cross bracing and node areas, which received the Denso Glass Outerwrap UV in lieu of the 80 mil HDPE Outercovers. SeaShield SplashZone UW Epoxy was used to protect all other irregular gusset areas that could not be wrapped.
The SeaShield Series 2000HD System will provide 20+ years of corrosion protection in this harsh environment that encounters over 20 feet of tidal fluctuation. The project was completed in the early Spring of 2016 under budget and ahead of schedule. All parties, including the contractor, design engineer and City of Juneau were very pleased with the project.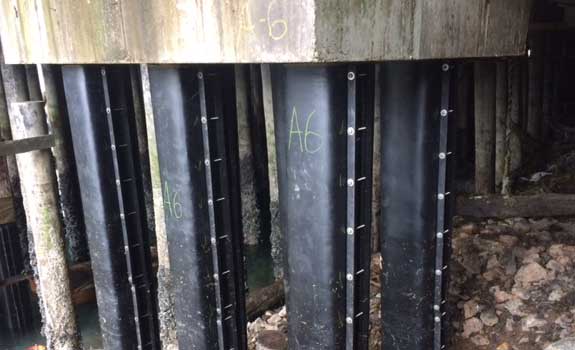 Completed H-Piles fully protected with the SeaShield™ Series 2000HD System.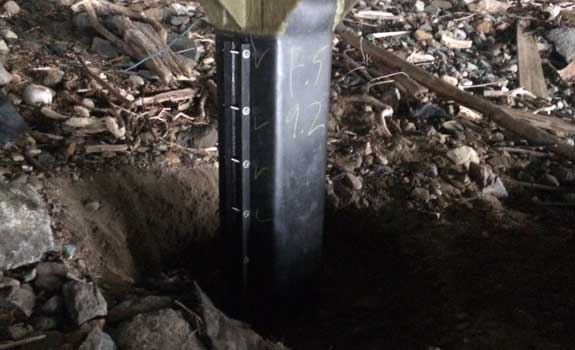 Pile cap/gusset area protected with the SeaShield™ Splash Zone UW Epoxy.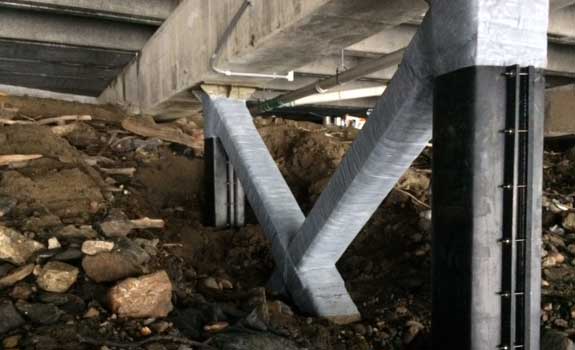 Steel cross beams protected with Denso Glass Outerwrap UV in lieu of the 80 mil HDPE Outercovers.