CASE STUDY
Concrete Bridge Piles Provided Splash Zone Protection with SeaShield 500 & 2000HD System
Subsea & Splash Zone Coatings
>
Ford Island Bridge – Concrete Pile Protection
Project Data
| | |
| --- | --- |
| Location | Honolulu, HI |
| Completion | 2006 |
| Project Type | Bridge Pile Protection |
| Products Used | Series 500 / Series 2000HD |
| Contractor or Applied By | Sea Engineering |
Project Details
The Ford Island Bridge was constructed in 1998 to connect Pearl Harbor's Ford Island to the mainland of Honolulu, Hawaii. To provide long term protection of the piles the SeaShield Series 2000 HD and Series 500 was selected as the system.
At the height of World War II more than 40,000 people lived and worked on the 450 acre (1.8 km2) island. The island was in the center of the Pearl Harbor Attack, because of the battleship moorings surrounding the island. Today, the island houses 45 naval families and 3,000 civilian workers. Also, the bridge is used for access to the USS Missouri and Ford Island Museum for Wartime Aircraft.
During the selection process the US Navy and contractor reviewed many different pile protection systems and chose the SeaShield System due to the excellent reputation of Denso for providing superior products, customer service and long-term history worldwide.
Sea Engineering out of Honolulu, Hawaii installed the systems. They completed the project on time and were pleased with the ease of installation of the Series 2000 HD and Series 500 Systems.
All together the project included protection for approximately 4,378 LF of 24″ octagonal concrete piles using the Series 2000HD System and 211 LF using the Series 500 System.
The Series 2000 HD System included SeaShield Marine Tape and custom fabricated 60 mil HDPE jackets. The tape was wrapped using a 55% overlap and then the jackets were secured into place using 316 stainless steel bolts.
The Series 500 System included fiberglass jackets that were constructed of 3/16″ thick woven and roving fiberglass and gel coated. The annulus was then pumped and filled with the SeaShield 550 Epoxy Grout. The epoxy grout kits consisted of 1 gallon of 2-part epoxy and a 44 lb. bag of grout yielding 0.4 cu.ft.
Both systems will provide many years of additional service life to the Ford Island bridge pilings.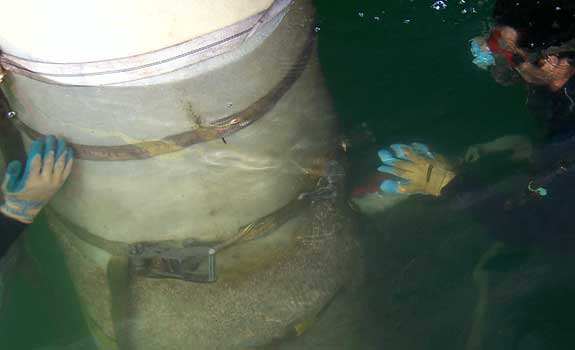 Pumping 550 Epoxy Grout.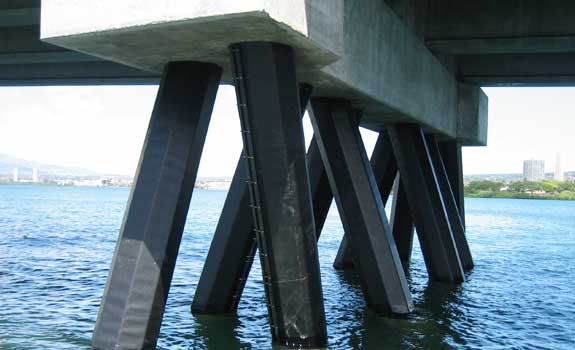 Series 2000HD protecting octagonal piles.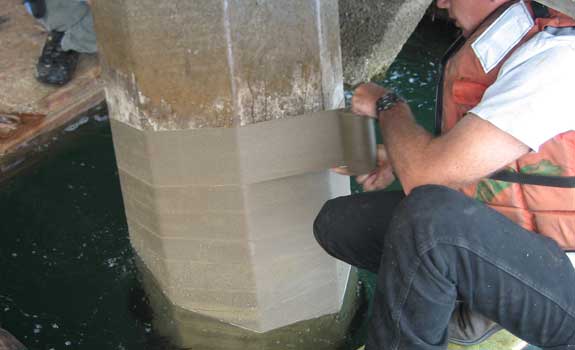 Denso Marine Tape applied before application of Series 2000HD outercover.