CASE STUDY
Timber Piles Protected with SeaShield Series 500™ System
Subsea & Splash Zone Coatings
>
Halifax Harbor – Marine Jetty Timber Pile Protection
Project Data
| | |
| --- | --- |
| Location | Eastern Canada |
| Completion | 2012 |
| Project Type | Jetty Pile Protection |
| Products Used | SeaShield™ Series 500 / Fiber-Form Jacket / 550 Epoxy Grout / 525 Epoxy |
| Contractor or Applied By | Maintenance Personnel |
Project Details
Denso Canada has been involved in a very successful SeaShield Series 500 project in Eastern Canada for the Department of National Defense. Located in Halifax Harbor, the project consists of the installation of our Series 500 system on timber piles for a marine railway, used for moving vessels into dry dock and back into the harbor for assignment again.
The SeaShield 500 FRP jackets for the job were manufactured in our Houston, Texas division and shipped to the site while the SeaShield 550 Epoxy Grout component was shipped to the job site from our Toronto division. The project involved protection of over 120 timber piles with diameters ranging from 11″ – 17″ and a variety of lengths due to water depth. The job was handled by a team of divers and consisted of pumping the SeaShield 550 Epoxy Grout, using a peristaltic pump on surface, into the annulus between the timber and the SeaShield 500 FRP jacket.
Quite separately from the Series 500 work, there was a large component of petrolatum tape wrapping on rectangular timber headers and cross-bracing that sat above the circular timber piling and under the wharf decking. The FRP jackets were cut to a variety of lengths on site and two-piece injection ports were installed along with pile stand-offs before being taken below the surface for installation around the piles and subsequent filling.
Pumping of the SeaShield 550 Epoxy Grout at cooler temperatures was a concern but the crew managed by keeping all material warm prior to pumping. Making certain the pumping distances were kept to a minimum also contributed to the success of the project in inclement weather.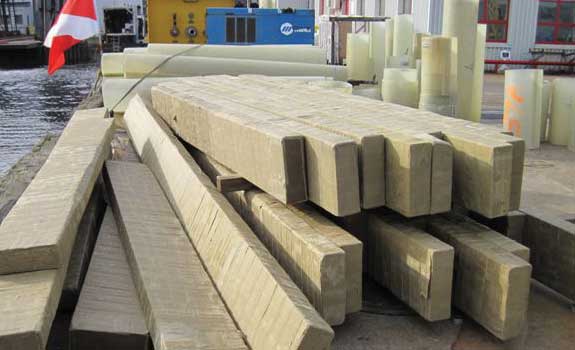 Rectangular timber headers were wrapped with Denso Petrolatum Tape.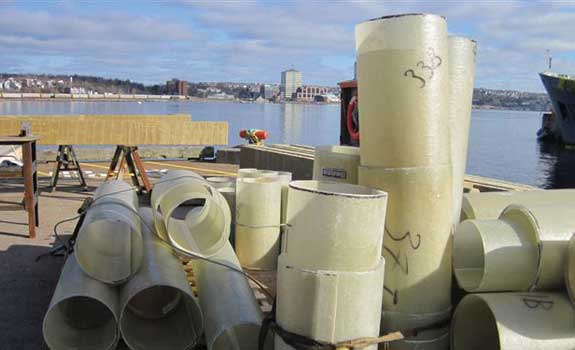 SeaShield™ 500 FRP jackets ready for installation.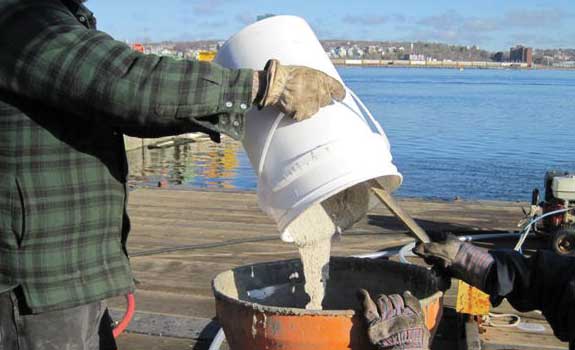 SeaShield™ 550 Epoxy Grout being loaded into the peristaltic pump.