CASE STUDY
KLJ Engineering – Potable Water Pipeline protection
Denso Viscotaq Coating Prevents Exposure to Contaminated Soil at Joints
>
KLJ Engineering – Potable Water Pipeline Protection
Project Data
| | |
| --- | --- |
| Location | University of North Dakota |
| Completion | 2016 |
| Testing Type | Steel & PVC Pipe in Contaminated Soil |
| Products Used | Viscotaq™ Sealing System |
| Testing By | Oilfield Services at KLJ Engineering |
Project Details
    Protecting our US water supply is of crucial importance to the health and safety of our citizens. Contaminated soils can jeopardize the critical infrastructure of water pipes. During an 8 month study from EERC, the Viscotaq system proved to be successful by preventing hazardous contaminants  from infiltration at the gaskets and joints. Viscotaq has been used in the field over the years to help protect storm, drain and drink water pipelines against these contaminants and assist in improving health and safety    
    The testing and approval comes due to the insight of Mr. Scott Besmer, Production Manager, Oilfield Services at KLJ Engineering. Mr. Besmer recognized the benefits of utilizing the Viscotaq system for this application as an alternative method of crossing potable water pipelines with crude oil pipelines, noting that the system provided considerable cost and time savings. The funding for the necessary testing was procured through a grant from the North Dakota Oil & Gas Commission and provided by BOE Pipeline LLC. Testing was performed by the Energy & Environmental Research Center (EERC) at the University of North Dakota in Grand Forks.
    In excerpt from the final report from EERC, the report states, "The Viscotaq sealing system is a multilayer pipe wrap that can be applied over the joints of polyvinyl chloride (PVC) pipes to prevent exposure of the joint gaskets to crude oil, which can degrade the gasket material and result in leaks. To conduct this effort, a test apparatus was designed that included six jointed PVC pipes completely submerged in a saturated sand–crude oil mixture for a period of 8 months. Four of the six pipes were protected and wrapped with the Viscotaq sealing system, and two of the pipes were unwrapped. All six pipes were filled with distilled water, and an internal water pressure of 45 to 47 psi was maintained in four of the pipes throughout the testing, while two remained unpressurized. Based on the experimental results obtained in this study, the Viscotaq sealing system appears to provide additional protection to bell and spigot joints of PVC pipes when exposed to crude oil for a period of 8 months, while the unprotected pipes showed evidence of a crude oil leak as early as 6 months (emphasis added)."
     The initial field report from one of the first applications of the Viscotaq system installed at a crossing of the new Bakken Oil Express Pipeline stated that the use of the Viscotaq system at three crossing was cheaper than one of the previous methods of protection.
Read the full Report at: https://www.densona.com/wp-content/uploads/2021/10/Viscotaq-Pipeline-Wrapped-Full-Report-May-2016.pdf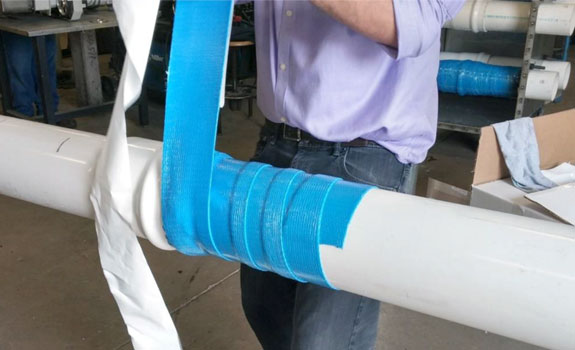 Viscotaq COating wrapped over PVC pipe joint for sealing out soil contaminates.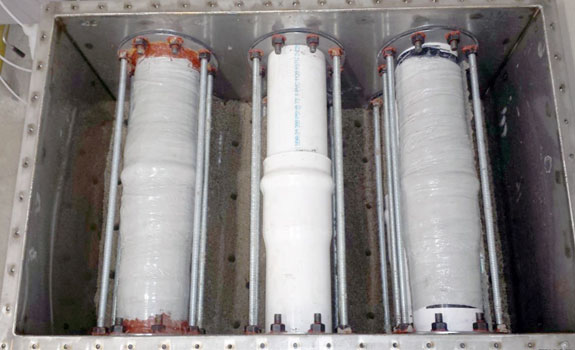 Top view of box after the first layer of sand was added.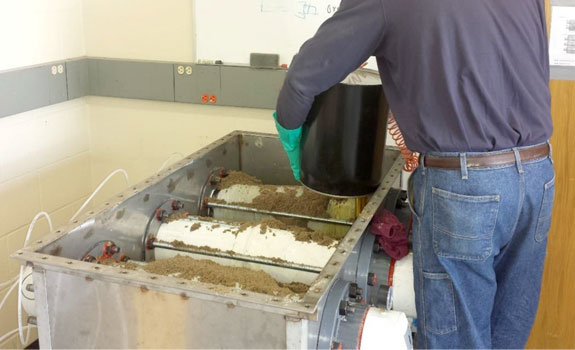 Second 20 gallons of crude oil being added.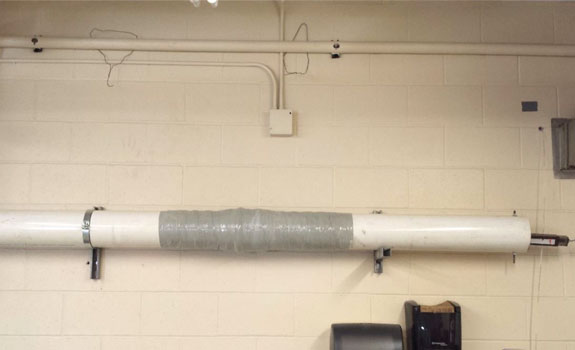 Wall-mounted pipe used for tension testing.