CASE STUDY
SeaShield Series 400 Testing Shows it Enhances Axial Capacity of Timber Piles Up To 22%
Product & Series Testing
>
Louisiana Tech University Testing – SeaShield Series 400 Testing
Project Data
| | |
| --- | --- |
| Location | Louisiana Tech University - Ruston, LA |
| Testing Done On | 2017 |
| Products / Series Tested | SeaShield™ Series 400 System - SeaShield Fiber Form Jackets, Sea-Shield 510 UW Grout and C-Grid® 450 Carbon Fiber Grid |
Test Details
Test Setup: Five each 8″ diameter x 4 ft. long timber piles with fiberglass reinforced jackets, grout and carbon fiber grid. To simulate deterioration, five of the piles had a hourglass–shaped varying depth cut into them at mid-span. There were two more piles that were used as baseline controls, one specimen was a plain timber pile with no repairs and the other had a hourglass–shaped cut into them at mid-span with no repairs. The repairs were installed 8" above and below the hourglass area. The objective was to evaluate the behavior of the mid section repair of a deteriorated timber pile and quantify the additional axial compressive strength from the repairs vs. the baseline control specimens.
Results: The results of showed that the repair will increase the axial capacity of the damaged pile from 198% to 483%. The ratios between the peak loads of repaired piles and undamaged pile varied from 1.03 to 1.22, which means that the repair not only restores the original axial capacity of the pile but also enhances it by 3% to 22%.
Please contact Denso for a copy of the complete Louisiana Tech Independent Test Report. All Testing & Results by: Fatmir Menkulasi & Hadi Baghi – Louisiana Tech University – Ruston, LA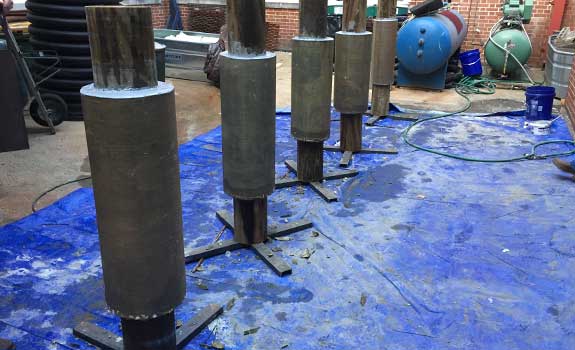 Hourglass shaped timber piles prior to installation of repair system.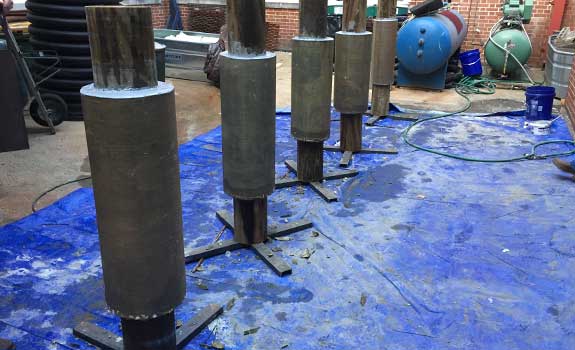 Repaired timber piles with the SeaShield Series 400 system.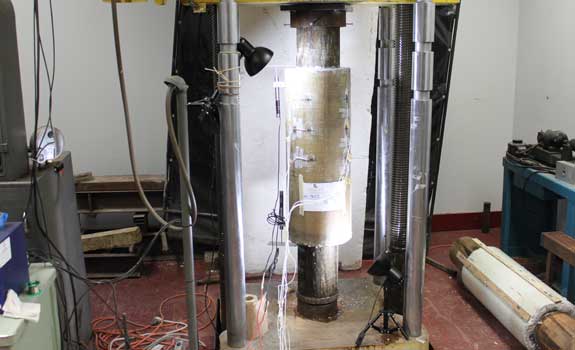 Compression testing of timber piles.