CASE STUDY
Denso Provides Roadway Sealing and Protection to Canadian Roadways
Sealing & Waterproofing
>
Ministry of Transportation – Roadway Protection
Project Data
| | |
| --- | --- |
| Location | Ontario |
| Completion | 2005 |
| Project Type | Roadway Protection |
| Products Used | Densoband™ |
| Contractor or Applied By | Maintenance Personnel |
Project Details
For many years, Denso North America Inc. in Canada has been working on increasing the use of Denso road products in a number of markets across the country. After numerous field demonstrations and follow-up activity, Denso has been awarded a very large contract by the Ministry of Transportation in Ontario. The contract calls for the installation of approximately 25 kilometers of Densoband joint sealing material. The material will be supplied in 15mm x 45mm x 6.5m rolls, along with appropriate primer, on the longitudinal joint between lanes one and two on one of the busiest stretches of highway in Canada. The highway, known as Highway 401, is a major multi-lane artery that runs east to west for 800 kilometers from one side of the Province of Ontario to the other and connects the Province and the country, to the busiest Canada/USA border crossing at Windsor, Ontario and Detroit, Michigan.
The constant "round the clock" traffic, of which a very large portion is 53' long tractor trailers carrying automotive parts and completed vehicles, has meant that the Densoband work is done from 9:00PM at night, through to 7:00AM the next morning, when the highway traffic is lighter. This project is the first time Denso in North America has used an applicator machine for the Densoband installation. After a few modifications to the unit, we are now capable of installing the product at a rate of approximately 360 metres/hour, a rate that keeps us well ahead of the paving and  finishing crews.
The various contractors and engineers are extremely pleased with the application of Densoband on this job and we look forward to many more highway projects across Canada, both large and small.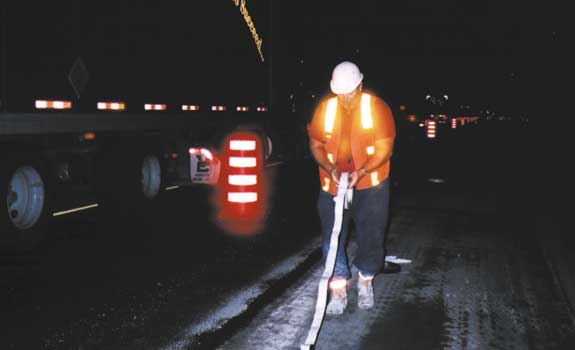 Densoband™ comes in several sizes. 15mm x 45mm x 6.5m rolls were used on this project.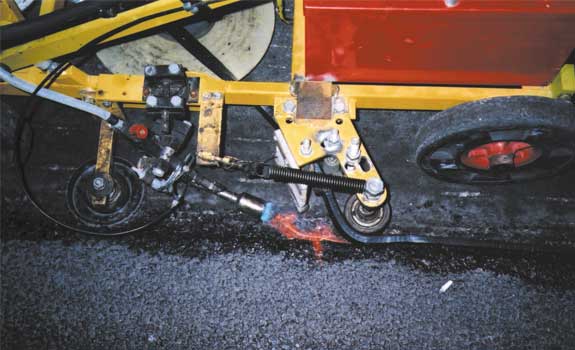 Applying Densoband™ at 360 meters/hour with the special Densoband applicator machine.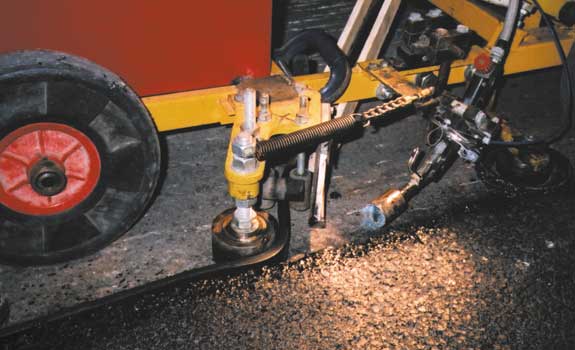 Close up of the Densoband™ applicator machine.