CASE STUDY
Tank Rehabilitation with Archco Tank Linings
Industrial Coatings & Linings
>
New York Tank – Tank Lining Protection
Project Data
| | |
| --- | --- |
| Location | Albany, New York |
| Completion | 2016 |
| Project Type | Tank Rehabilitation Coating |
| Products Used | Archco™ 400 / Archco™ 476F |
| Contractor or Applied By | Maintenance Personnel |
Project Details
A large pipeline company wanted a system that would allow them to keep their existing floor for another 10 to 20 years instead of replacing it. It was decided to sweep-blast the existing lining and apply rehabilitation coat, instead of removing it.
The 400/476F was recommended for this project for this reason. The 400 primer/sealer bites into the swept blasted existing coating, creating an excellent bond to anchor the 476F. The 467F was then applied over the 400 primer at 30 to 35 mils dft. in one coat. The 476F sprays and builds very well creating an epoxy reinforced glass barrier system. The 476F is an epoxy phenolic epoxy that is very chemical resistant, has good heat resistance and has good abrasion resistance. After the lining was cured, adhesion tests were performed to check the mechanical and chemical bond to the existing substrate. The readings were anywhere from 2300 psi to 2800 psi. The owners can expect the lining service life to meet their needs.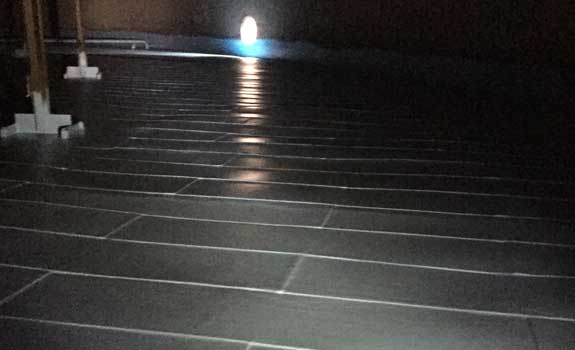 Pipeline storage company, 220' fuel oil tank, outside Albany, New York, on the Hudson River.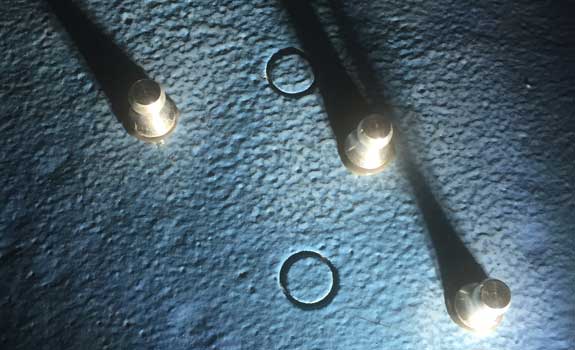 Adhesion test, 2500 psi to 2800 psi.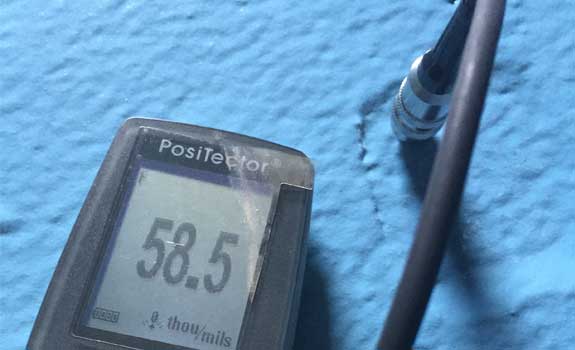 System 400 primer @ 4 to 5 mils dft, 30 to 35 mils dft of 476F single leg.