CASE STUDY
Oklahoma Storage Tank – Floating Tank Roof Coating Protection
Corrosion Prevention Coating for Storage Tank's Floating Roof
>
Oklahoma Storage Tank – Floating Tank Roof Coating Protection
Project Data
| | |
| --- | --- |
| Location | Cushing, OK |
| Completion | July 2021 |
| Project Type | Floating Roof |
| Products Used | Archco 300 / Archco 381 |
| Contractor or Applied By | Guthrie Industrial |
Project Details
This 194 ft diameter floating roof tank used to hold 250,000 barrels of crude oil in Cushing, OK. A local contractor was awarded the tank and chose Denso's Archco product line for it's high quality corrosion prevention properties and the ease of product application. The contractor was very pleased with how user friendly the coatings were to spray. The coatings had excellent pot life, even on the floating roof during the summer heat. The Archco 300 primer was sprayed airless over an existing sweep blasted coating on the roof. Archco 381 topcoat was then airless spray applied the next day. The ease of application allowed the contractor to finish spraying the roof in just a few hours. Archco 381 offers long life, excellent weatherability, UV protection and does not chalk.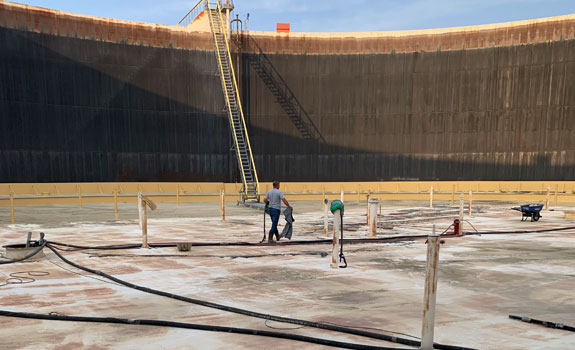 Sweep blasting over existing coating.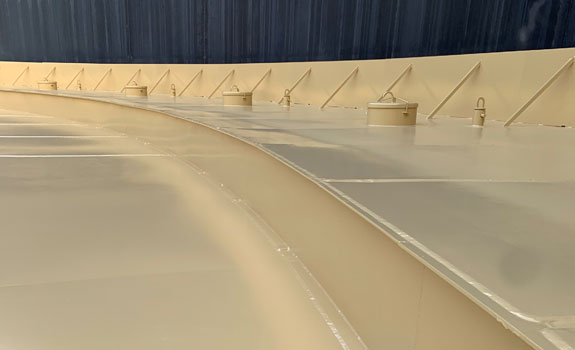 Low VOC Archco 300 Primer applied to steel tank roof prior to the application of Archco 381.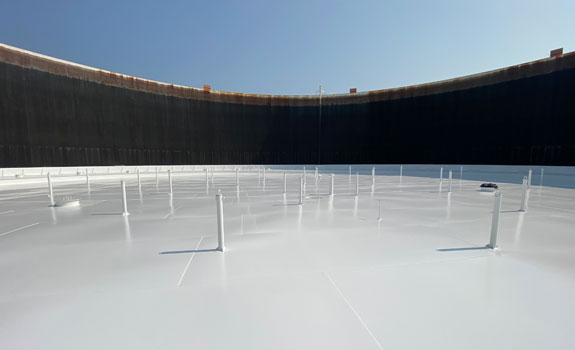 Archco 381 offers great UV reflection to lower the temperature of the roof to keep the underside cooler.