CASE STUDY
Vertical Pipeline Shafts in Canada Protected From Corrosion with Denso's Protal Liquid Coating
Buried Pipeline
>
Ontarior Power Generation Company – Pipeline Protection
Project Data
| | |
| --- | --- |
| Location | Niagra Falls |
| Completion | 2009 |
| Project Type | Pipeline Corrosion Protection |
| Products Used | Protal 7250 / Protal 7125 |
| Contractor or Applied By | N/A |
Project Details
After beginning one of North America's largest hydro-electric tunneling projects at Niagara Falls, the Ontario Power Generation company needed to supply vertical access to a 47.2 foot diameter tunnel being bored 459 feet below the surface.
When completed, the tunnel will measure over 33,000 feet in length. The project called for 5 x 36" diameter fresh air shafts to be bored vertically from the surface into the tunnel. These vertical shafts will also provide equipment access and pump access for emergency water evacuation. Denso Canada was chosen to supply Protal 7250 and Protal 7125 to all the exterior surfaces of the vertical steel pipes, each shaft covering a distance of nearly 500′ vertically, linking to the horizontal tunnel beneath. Each of the 5 shafts was spaced approximately 13 feet apart along a specific section of the tunnel. Each pipe section was coated in plant with Protal 7250 and shipped to site where it was hoisted by crane and lowered into the shaft. The vertical shaft work was completed in the winter months at subzero temperatures, hence the use of Protal 7125 on the field applied girth welds.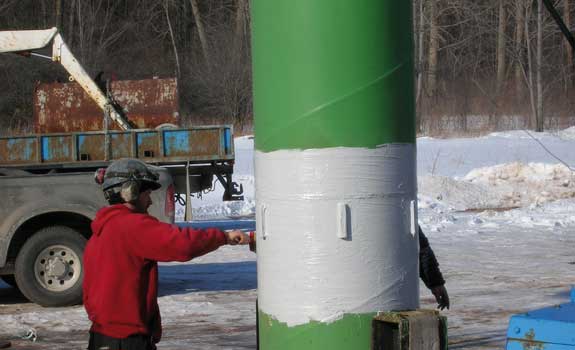 Girth weld area being coated with Protal 7125 in sub-zero temperatures.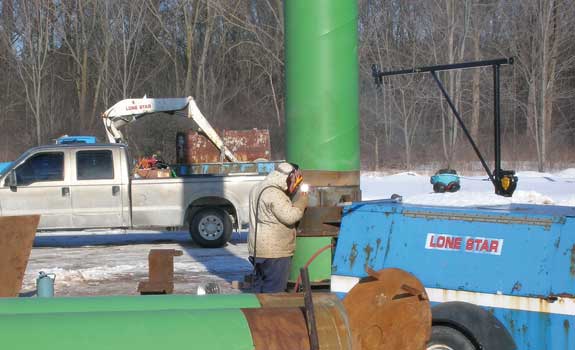 A steel air shaft is welded to a tunnel section prior to the Protal application.