CASE STUDY
Protal 7200 Protects Weld Joints on 12 Miles of 20″ Pipeline
Buried Pipeline
>
Pipeline DCP Midstream – Girth Weld Protection
Project Data
| | |
| --- | --- |
| Location | East Texas |
| Completion | 2007 |
| Project Type | Push Rack Application / Girth Welds |
| Products Used | Protal™ 7200 |
| Contractor or Applied By | Duphils Construction |
Project Details
A major gas pipeline company recently selected Protal 7200 to protect the weld joints on 12 miles of 20″ pipeline in East Texas.
Protal 7200 was selected as the coating due mainly to its extremely fast cure and excellent cathodic disbondment results. Side-by-side tests against competitive liquid epoxies and shrink sleeves, conducted by the pipeline company, was the ultimate deciding factor in selecting Protal 7200. Protal 7200 is a two-part, 100% solids epoxy coating that can be applied in one coat up to 50 mils. The coating exhibits excellent cathodic disbondment results of 4 mm @ 150°F (65°C). In addition to its fast cure, Protal 7200 also exhibits excellent adhesion properties, outstanding gouge/abrasion resistance and is environmentally safe.
By preheating the pipe surface up to 180°F (82°C), the coating was cured in 15 minutes to a shore D hardness of 80 allowing the pipe to be holiday tested and pass over the final rollers on the push rack system. Unlike FBE, which requires expensive and heavy equipment, Protal 7200 only requires a brush or roller to apply. The costly risk of downtime due to equipment failure is eliminated. Due to these cost savings Protal 7200 is ideal for a variety of field or shop applications including girth welds, tie-ins, drilling applications, station piping, fittings and repairs to FBE. Denso has an extensive line of pipeline coatings to protect a wide variety of pipeline applications in almost any environment.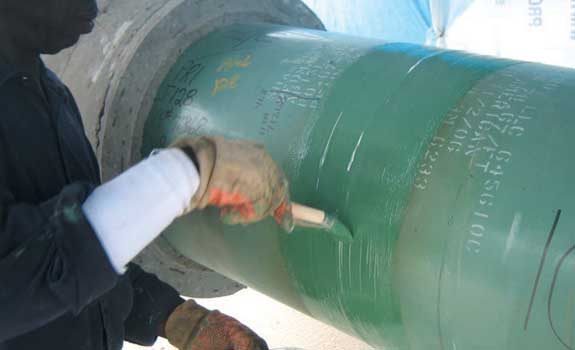 Protal™ 7200 brush applied to 30 mils at 180°F.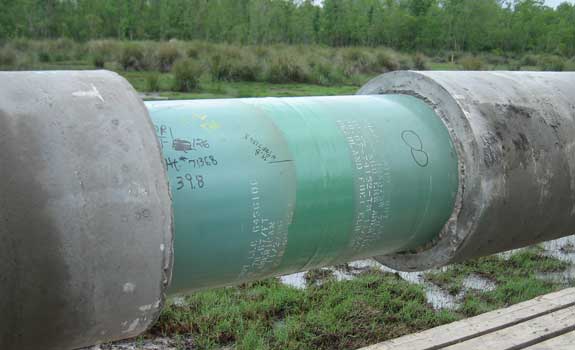 Pipe is pushed into the water 20 to 30 minutes after coating application.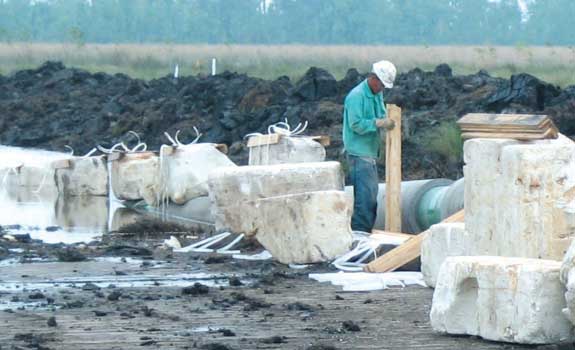 Protal™ 7200 is cured and holiday detected within 15 minutes.