CASE STUDY
Steel Port Piles Protect from Splash Zone Corrosion With SeaShield Series 2000HD™
Subsea & Splash Zone Coatings
>
Port of Seattle – Pile Rehabilitation
Project Data
| | |
| --- | --- |
| Location | Seattle, Washington |
| Completion | 2014 |
| Project Type | Port Pile Protection |
| Products Used | SeaShield™ Series 2000HD System |
| Contractor or Applied By | N/A |
Project Details
In 2013 the Port of Seattle handled over two million containers (TEUs) and over a one million cruise passengers making it the 14th largest port in North America. With such an amazing amount of stress that the port receives each year, it is imperative that the piles are protected with long-term splash-zone corrosion prevention. In the summer of 2008, the Port of Seattle wanted to start a trial project to protect 40 piles on piers 66 & 69 with Denso's SeaShield Series 2000HD System. After the piles received proper surface preparation, they applied Denso S105 paste, Densyl Tape with 55% overlap and the Series 2000HD Outercover (80 mil HDPE) to the pile's splash-zone area. After 3 years of monitoring by the port's maintenance and engineering groups, they determined that Denso's SeaShield Series 2000HD System protected the piles from splash zone corrosion as advertised. The Port of Seattle was pleased and moved forward to protect the remaining 510 piles on piers 66 & 69 with the Series 2000HD System. The project was bid out in 2013 and awarded to KC Construction. The SeaShield Series 2000HD System was soon after installed and was completed in early 2014, leaving the Port of Seattle standing strong to keep it a major North American distribution and travel terminal for decades to come.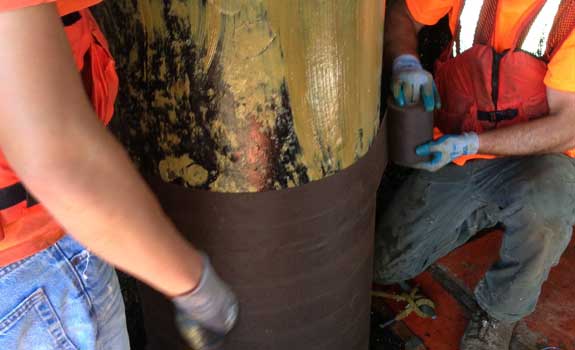 Installation of Denso S105 Paste and Densyl Tape to a 24" steel pile.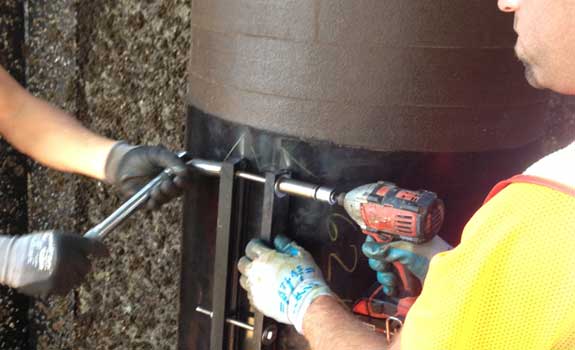 Installing the 80 mil HDPE outercover with M10 316SS fasteners.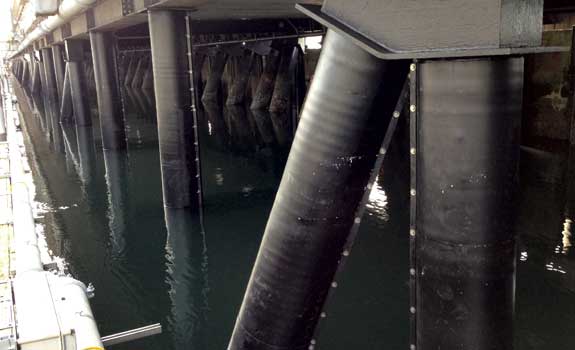 Completed piles fully protected with the SeaShield™ Series 2000HD System.