CASE STUDY
Suncor Undertakes Valve Rehabilitation with Denso Corrosion Prevention Products
Exposed Surface Coatings
>
Suncor Energy – Oil Pipeline Valves
Project Data
| | |
| --- | --- |
| Location | Southern Ontario |
| Completion | 2012 |
| Project Type | Oil Pipeline Valves |
| Products Used | Denso Paste / Denso LT Petrolatum Tape / Denso Profiling Mastic |
| Contractor or Applied By | Suncor Energy |
Project Details
Suncor Energy is a Canadian integrated energy company that is involved in the Canadian oil sands. Suncor also has complementary operations in the refining and marketing of North American natural gas as well as conventional oil production. This involvement consists of operations both internationally and domestically, including offshore on the East Coast of Canada.
Sun-Canadian Pipelines is a Suncor Energy and Shell Canada joint venture that transports and delivers refined petroleum products throughout southern Ontario. Recently, SunCanadian undertook a large valve rehabilitation project that involved the sandblasting of all remaining epoxy coating on each valve and the application of the Denso Petrolatum System.
This was a totally new experience for Sun-Canadian as they had always used some type of coal-tar epoxy coating to protect their valves in the past. After many years of constant maintenance and repainting, Sun-Canadian finally realized what many refining companies around the world have know for years, utilize Denso Petrolatum Paste, Denso Profiling Mastic and Denso LT Petrolatum Tape and be free of continuous, expensive maintenance forever.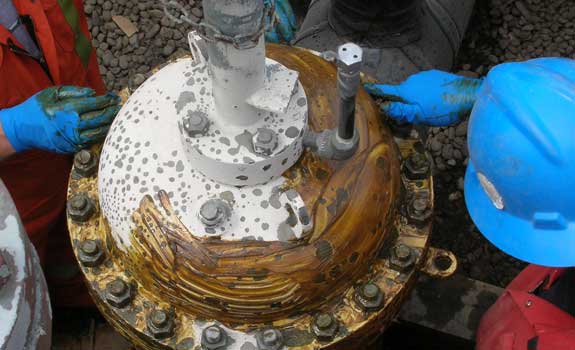 Denso Paste used to prime surface to displace moisture and penetrate rust before applying mastic and tape.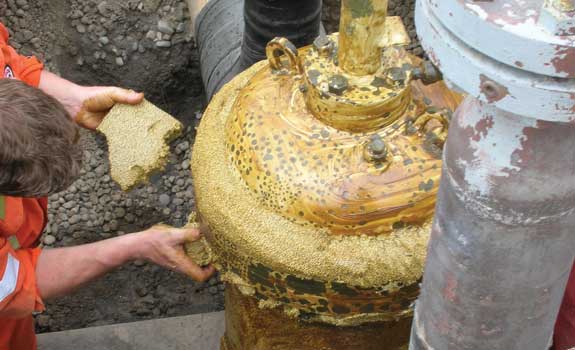 Denso Profiling Mastic is used to fill voids and smooth all irregular contours ready for wrapping with Denso LT Petrolatum Tape.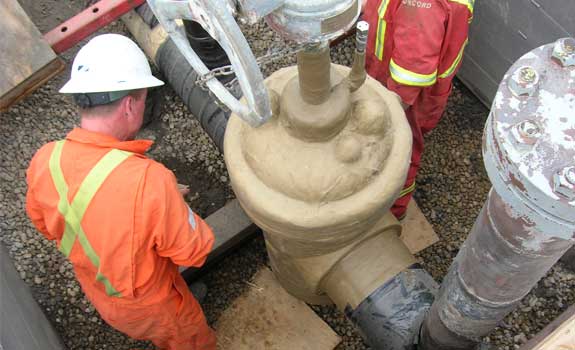 A final wrap of Denso LT Petrolatum tape to finish the job - note the flexibility of the tape and ease of wrapping over awkward shapes.