CASE STUDY
Jet Fuel Pipelines in Low Temperature Protal with Protal 7125
Buried Pipeline
>
Toronto Pearson International Airport – Pipeline Protection
Project Data
| | |
| --- | --- |
| Location | Toronto, Canada |
| Completion | 2008 |
| Project Type | Jet Fuel Pipeline Protection |
| Products Used | Protal™ 7125 / Protal™ 7200 |
| Contractor or Applied By | N/A |
Project Details
Construction in Canada provides some unique cold weather challenges that limit a large portion of liquid coatings currently on the market. As contractors struggle with trying to complete projects in a timely fashion they must deal with less than favorable application temperatures that continually slow down job progress and cost more money to finish.
This was the situation near Toronto Pearson International Airport over the past winter and one perfectly suited for Denso Protal 7125. Toronto Pearson International Airport is Canada's largest and busiest airport, serving 40% of all airline traffic in Canada. Pearson International provides air service to over 140 destinations in 45 countries around the world and has recently added a new terminal to better handle their 31,000,000 annual passengers.
With the new airport terminal now in place, there was a need for additional offsite jet fuel tanks and the associated piping required to carry fuel approximately 5kms into the airport. Field repairs and girth welds being coated at minus 15°C were protected using Denso Protal 7125. The 7125 fast cure, low temperature coating allowed construction crews to continue their work without the delay of preheating. This has kept the project on time and on-track and worked extremely well during the cold winter months. The project continues on now through the summer with 100's of lengths of Denso Protal 7250 protected pipe being installed.
The pipeline installation has also provided approximately 1000 girth welds that will be coated with Protal 7200. The versatility of Denso Protal Liquid Coatings has again given us an advantage over most other epoxies on the market and this has been especially true in dealing with the wide temperature ranges our construction companies are faced with each year in Canada.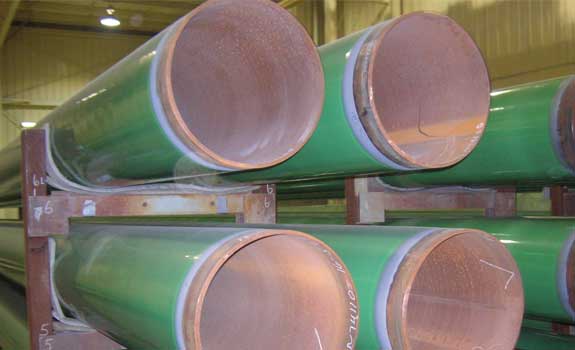 Jet fuel pipe lengths stockpiled prior to installation at the airport.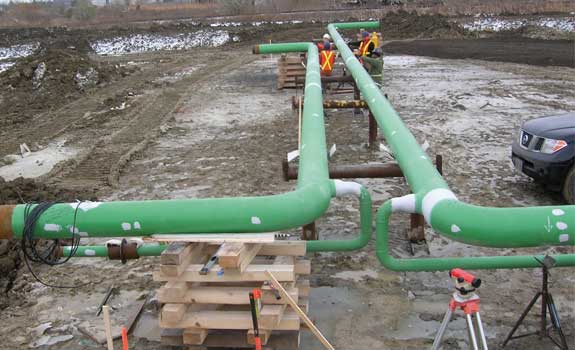 With no preheating necessary, the girth welds can easily be coated with Protal™ 7125 at temperatures of -15°C.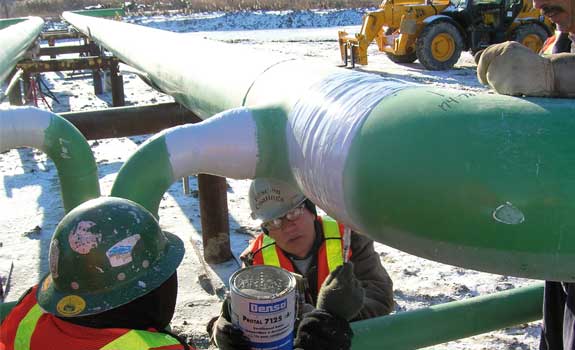 Application of Protal™ 7125, low temperature pipeline coating.