CASE STUDY
Wedge Tower Cooling Tower Framework & Piping Protection with Denso Tapes
Exposed Surface Coating
>
Wedge Tower – Cooling Tower Protection
Project Data
| | |
| --- | --- |
| Location | Houston, TX |
| Completion | September 2016 |
| Project Type | Cooling Tower Protection |
| Products Used | Denso Paste S105 / Densyl Tape / HDPE Outerwrap with Smartband Strapping / Profiling Mastic / Denso Weathershield 15 |
| Contractor or Applied By | MFR Fluid & Air |
Project Details
Recently Hines, a large real estate developer, acquired the rights to the Wedge Tower in downtown Houston, TX. After inspection it was concluded the cooling tower would have to be rebuilt and the piping replaced due to corrosion. Due to past successes they have experienced with Denso on numerous cooling towers over the years, the decision was made to again use the Denso Petrolatum Tape System to provide long term corrosion protection on all of the piping, valves, flanges, etc.
After a short on-site training session with a Denso representative, the contractor MFR Fluid & Air was able to install the Denso Petrolatum Tape system quickly and easily much to their satisfaction. The scope of work consisted of minimal surface preparation (SSPC SP-2/SSPC SP-3), followed by the application of a thin layer of Denso Paste S105, Densyl Tape with a 55% overlap, and a protective layer of HDPE Outerwrap with SmartBand Strapping. For irregular areas such as flanges and valves, the Denso Profiling Mastic was also applied to provide a smooth profile to tape over and then top coated with the Denso Weathershield 15 in place of the HDPE Outerwrap. Another successful application gave the developer and contractor confidence the life of their cooling tower piping will be extended while preventing corrosion for many years to come.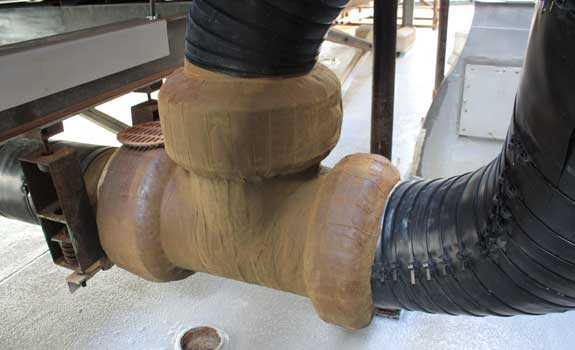 Piping protected with an HDPE Outerwrap and Smartband Strapping system.
Overview of the complete Denso corrosion protection system for cooling towers for pipes, valves and fittings.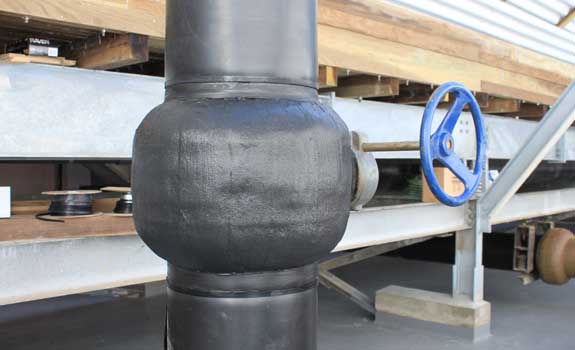 Weathershield 15 brushed applied onto Densyl Tape protecting a valve flanged as a top coat.